Isolated Phase Bus Systems
Safe, reliable electrical bus systems to meet medium- and high-voltage demands in multiple generation applications
Innovative isolated phase bus duct systems to meet global demands
Around the world, Avail's medium voltage bus systems are found in a wide range of critical applications that demand the highest degree of reliability. For decades, plants and facilities have counted on Avail's knowledge and expertise in custom-designed solutions to deliver unmatched performance in isolated phase bus ducts.
Deployed as generator main leads extending to GSU transformers and excitation service/auxiliary transformers, Avail isolated phase bus systems are a cost-effective, fully integrated option for multiple applications:
Hydro plants
Nuclear power stations
Combined cycle power plants
Fossil plants
Renewable plants
The advantages of a value-based partner
As a single-source provider, Avail can provide opportunities for cost efficiency not available with other bus system suppliers. Our elbows and t-taps are welded in-plant and are easier to install, reducing costs in the field. Our extensive shipping capabilities include transporting 40-foot sections with all three phases shipped on a single skid to also lower field costs.
Engineered for optimal performance
With Avail's advanced design, each phase is mounted in individual enclosures, with conductors that are air insulated and supported in the center phase enclosures by strategically arranged insulators. This safer approach delivers maximum system integrity that eliminates phase-to-phase short circuits, while our insulated saddle supports prevent current from being induced in the steelwork, cables, pipes or other metal structures. Avail can design and install the entire system, including interfaces with major manufacturers of generators, generator circuit breakers and transformers.
Ratings
Current: 600–25,000 (air cooled)
Up to 50,000 amps (forced-air cooled)
Voltage: 15kV–38kV
Insulation levels: 110–200kV (BIL)
Momentary current: Up to 1,000,000+ Amps Asymmetrical
Meets or exceeds ANSI/IEEE and IEC Standards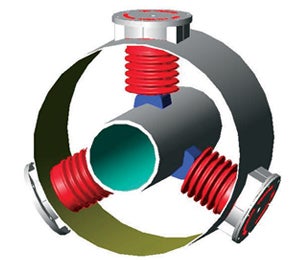 Avail's FAC's effectively work to redistribute air quickly and improve the unit's overall profitability.
More Medium Voltage Bus Systems
Bus Services
Tap the industry's leading bus system expertise and experience